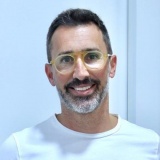 About The Events
A systemized approach to management of complex cases
Virtual - Zoom
November 25, 2022
02:30 PM UAE (GMT+4)
---
Overview
Multiple innovations and advancements throughout the last 25 years have allowed the practitioner today to treat a variety of malocclusions with different degrees of complexity with the Invisalign system predictably and achieve great clinical outcomes. During this lecture, Dr Monteiro will share with the audience his approach to managing complex cases with the Invisalign system. Clinical cases will be shared to highlight the use of the system in treating challenging cases from Vertical discrepancies to sagittal corrections and also extraction cases.
Speaker Bio
Dr Pedro Costa Monteiro, Portugal
I started practicing Dentistry at Oporto- Portugal in 2002 after getting my license from the Faculty of Dental Medicine, University of Porto 2002.
In 2008 I finished my Masters in the specialty of orthodontics and facial orthopedics (3 years full-time)
I founded and am the clinical director of the PCMFG clinic where I work as full-time ortho.
I am very passionate about orthodontics and digital dentistry, for 7 years I was the Coordinator and Professor of the Modular Course of Orthodontics - Sorriso Natural S.A. 2012-2019.
I am the founder and CEO of b.pcm.education since 2016.
Since 2016 I create a 100 % full Invisalign practice and I became Invisalign KOL & Speaker. I focus on teaching and helping orthodontists achieve the next level in their own practices. Since 2018 I am the CEO and Co-Owner of Master Aligner Portugal, the CEO and Co-Owner of Master Aligner Online Academy.
Agenda
Date: 25 November 2022 | Time: 14:30-16:00 (GST) | Location: Online Event
View the full program schedule and agenda HERE.
Invis is your brilliance, enhanced
Learn more about how we can help enhance your brilliance
Disclaimer: By submitting this form, you acknowledge that your personal data will be processed by the Align Technology group. Your personal data will be processed in accordance with our privacy policy.