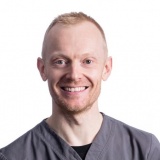 About The Events
Enhancing the patient experience and treatment outcomes through align digital platform
Virtual - Zoom
November 25, 2022
07:30 PM UAE (GMT+4)
---
Overview
During the last few years, the digital workflow within the practice has been considered the golden standard of care for our patients. From digital scanning to digital planning and virtual monitoring, patients are expecting a full digital experience to enhance their experience and improve their acceptance of proposed treatments.
This session will focus on the Align Digital workflow and highlight the importance and advantages of digital workflow within the practice. Dr.Deeming will focus on the different digital tools available and how they support him as a practitioner and his patients from initial consultation to the retention and all the steps in between.
Speaker Bio
Dr Guy Deeming, UK
Dr Guy Deeming is a Specialist Orthodontist and Apex Invisalign provider having treated over 3000 Invisalign aligner cases over the last 10 years. He runs 7 clinics in the North East of England and is a Clinical Speaker and member of the Align Advisor Board in the Uk.
Agenda
Date: 25 November 2022 | Time: 19:30-21:00 (GST) | Location: Online Event
View the full program schedule and agenda HERE.
Invis is your brilliance, enhanced
Learn more about how we can help enhance your brilliance
Disclaimer: By submitting this form, you acknowledge that your personal data will be processed by the Align Technology group. Your personal data will be processed in accordance with our privacy policy.