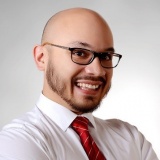 About The Events
The smile framework enhanced: An orthodontic, periodontics and restorative Invisalign approach
Virtual - Zoom
November 25, 2022
04:10 PM UAE (GMT+4)
---
Overview
Proper diagnosis of orthodontic problems remains the pinnacle for success in achieving optimum outcomes in treating challenging cases. During this lecture, Dr Shahin will discuss the importance of the multidisciplinary approach for cases presenting to the clinic with multiple oral problems. These challenging cases require collaboration and communication among members of the dental team, and Dr Shahin will highlight through multiple cases how digital workflow and planning in addition to ClinCheck Pro 6.0 ® tools enable clinicians to form a detailed treatment plan, share it with their team and execute it predictably to achieve great results for the patients
Speaker Bio
Dr Suliman Yousif Shahin, Saudi Arabia
Dr. Shahin obtained a Bachelor of Dental Surgery from King Abdulaziz University College of Dentistry in 2007. Later on, he completed his residency and doctoral degree in Boston, USA earning him a Certificate of Advanced Graduate Studies (CAGS) and a Doctorate of Science Degree (DScD) in orthodontics and dentofacial orthopedics from Boston University Henry M. Goldman School of Dental Medicine, USA. He has a Fellowship in Surgical and Craniofacial Orthodontics from Case Western Reserve University School of Dental Medicine, USA. Dr. Shahin is a Fellow of the Royal College of Dentists of Canada in orthodontics and a Diplomate of the American Board of Orthodontics. He is actively involved in lecturing nationally and internationally mostly on clear aligners.
Currently, Dr. Shahin is an Assistant Professor in Orthodontics at the Imam Abdulrahman Bin Faisal University at the College of Dentistry. Dr. Shahin maintains a practice mostly dedicated to clear aligner therapy using Invisalign with emphasis on multidisciplinary treatment. His research interests are on clear aligner therapy, cleft lip and palate and CBCT superimposition.
Agenda
Date: 25 November 2022 | Time: 16:10-17:40 (GST) | Location: Online Event
View the full program schedule and agenda HERE.
Invis is your brilliance, enhanced
Learn more about how we can help enhance your brilliance
Disclaimer: By submitting this form, you acknowledge that your personal data will be processed by the Align Technology group. Your personal data will be processed in accordance with our privacy policy.