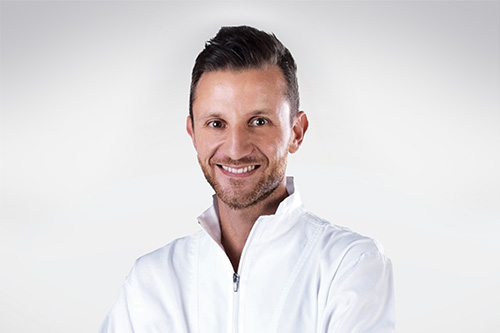 About The Events
(Day 1 of 2) Invisalign Mentoring Programme
Virtual - Zoom
September 21, 2023
10:00 AM UAE (GMT+4)
---
Overview
The Invisalign Mentoring Programme has been engineered to support our next generation of Invisalign Providers. It will take you on a journey to develop your own clinical expertise and help you shape the future of both your practice and your patients.
It's a two-day virtual event, with 14 hours of learning on the Invisalign system.
Lead by, Dr Federico Migliori, an international speaker who is an expert on the Invisalign system.
Speaker Bio
Dr. Migliori obtained his dental degree from the Marche Polytechnic University in 2007, after completing a residency program with Dr. Jeffrey Okeson at the Orofacial Pain Center, University of Kentucky.

He specialized in Orthodontics at the University of Insubria in 2011, where he is now a visiting professor and clinical instructor in clear aligner treatments. His thesis was selected for the Charley Schultz Resident Scholar Award and won the International Aligner Research Award.

In 2012 he acquired the diploma of excellence in orthodontics, European Board of Orthodontists (EBO, Provisional Member). Founding member and actual councilor of the 'Italian Society of Dental Sleep Medicine" and active member of the American Association of Orthodontists, European Aligner Society and the Italian Association of Specialists in Orthodontics.

Dr. Federico has been a speaker in many Congresses and Meetings in Europe, USA and Middle East. Since 2015 he is a Clinical Speaker and member of the European Advisory Board for Align Technology and has treated more than 600 patients with the Invisalign System. He carries out his profession in Italy, focusing on treatments with clear aligners, digital technologies and sleep breathing disorders in children and adults.
Agenda
| | | |
| --- | --- | --- |
| Start Time | End Time | Topic |
| 10:00 | 10:15 | Opening and introduction |
| 10:15 | 10:55 | Why Invisalign |
| 10:55 | 11:25 | Smartforce features and biomechanics principles |
| 11:25 | 11:35 | Group discussion |
| 11:35 | 11:50 | Break |
| 11:50 | 12:00 | Sagittal discrepancies-into |
| 12:00 | 13:30 | Sagittal discrepancies |
| 13:30 | 13:45 | Group discussion |
| 13:45 | 14:30 | Lunch |
| 14:30 | 15:45 | ClinCheck reviews |
| 15:45 | 16:00 | Break |
| 16:00 | 17:15 | ClinCheck reviews |
| 17:15 | 17:30 | Closure |
Invis is your brilliance, enhanced
Learn more about how we can help enhance your brilliance
Disclaimer: By submitting this form, you acknowledge that your personal data will be processed by the Align Technology group. Your personal data will be processed in accordance with our privacy policy.