Support professional development

Move, our 360 development journey, is designed to provide the support you need to reach your professional and practice goals.
Orthodontists who joined our programmes in 2019 treated 2x more Invisalign® patients than those who did not.
Our program supports you and your
practice in four key areas

Clinical excellence
Improve confidence:
By treating a wide range of growing and adult patients with our dedicated portfolio innovations.
Gain knowledge:
Gain understanding of the treatment planning process, biomechanics and clinical considerations
Receive support:
On the value of the Align portfolio and product innovations

Practice digitalization
Get motivated:
By understanding the practice and patient benefits of going digital.
Be inspired:
By the end-to-end digital workflow and start implementing it with confidence.
Work cohesively:
Understand the role your team can play.

Patient engagement
Get recommendations:
Start to learn how improving communication can increase patient referrals
Improve the patient experience:
Offer your patients a seamless experience by going digital
Gain experience:
Start treatments with patients and see the benefits straight away

Business acceleration
See the benefits:
Begin to understand what Invisalign® clear aligners and the iTero scanner can bring to your practice
Increase efficiency:
Receive support on planning out your practice's efficiency savings
Gain support:
Learn about the business support tools available to you and how to integrate them into your practice
Implement a 20% discount on all Invisalign® treatment options, with additional Advantage points for your growing patients' treatments (up to-19 years old) and benefit from our Teen Guarantee offering
Download our Move 360 development journey brochure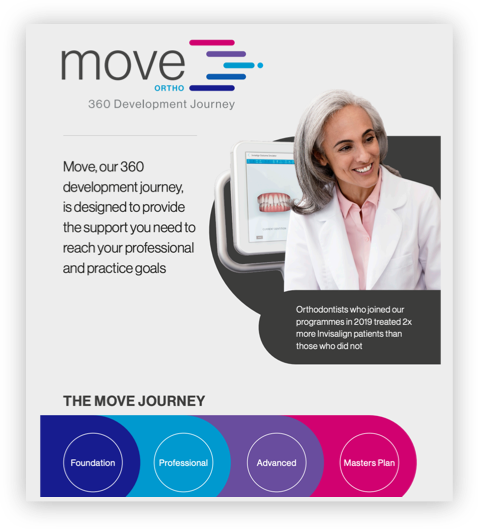 Disclaimer: By submitting this form, you acknowledge that your personal data will be processed by the Align Technology group. Your personal data will be processed in accordance with our privacy policy.